Digital ceramic, 'permanent' printing has traditionally been focused on ceramic ware; mugs, plates etc. We are the first specialists to move this to a large format scale and target the architectural sector.
Digital Ceramic Systems can now print not only to ceramics, but large format architectural porcelain, glass and enamelled steel.
In the past year we have made final modifications to our technology and have the first high resolution large format laser ceramic printer, capable of printing large-scale prints on demand to multiple surfaces.
This opens up new markets worldwide for decorating large-format architectural surfaces with detailed design, images and surface textures. The printing is UV stable and with the toners been derived from ceramic pigments which are extremely hardwearing after firing (fired to 800ºc); ideal for any environment.
We are working and developing relationships with several industrial cladding manufactures who are extremely excited about the possibilities. Projects that were financially impossible are now possible. Our most recent developments have been to automate the decorating process of the large format prints, which is a necessity for the larger projects we are now doing.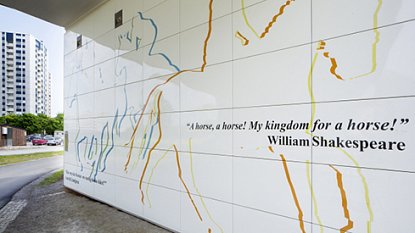 Enamel Steel
Enamel is strong, versatile and incredibly easy to install. We have successfully developed a product, which combines digital printing with enamel steel panels to produce stunning images and designs for the cladding of buildings, car parks and underpasses. You can choose from any colour in either small or large format panels, all of which can be custom designed and printed or plain colours.
Ceramic Signage
Ceramic is the perfect material for outside signage as it is scratch resistant , is resilient to graffiti and the colours won't fade. The motif is either screen or digitally printed and then fired into the ceramic surface which makes it permanent and incredibly tough.